Meet Our Team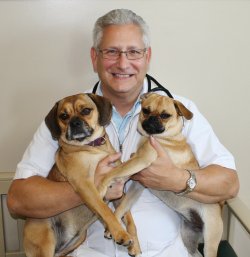 Dr. Robert Johnson
DVM
A graduate of Kansas State University School of Veterinary Medicine, Dr. Johnson has over 25 years experience in the veterinary field. After the completion of veterinary school, he acquired Paw Prints Animal Hospital and created a clinic specializing in the treatment of companion animals. Dr. Johnson is a firm believer in prevention as the best medicine and aims to educate all clients to provide the best possible care for each pet. Using state-of-the-art equipment and modern veterinary medicine, Dr. Johnson strives to provide your pet with the best possible medical care. Dr. Deb Lanzi
DVM
Dr. Deb Lanzi was born and raised in Maryland, where she grew up competing in equestrian events and track and field. She completed her undergraduate degree at the University of Colorado at Boulder, with a double major in Integrative Physiology and Environmental Biology in 2004. After working in the human health and fitness industry for a number of years, she switched to animals and completed a dual degree at Colorado State University, earning her Masters of Business Administration (2014) and Doctorate of Veterinary Medicine (2017). Dr. Lanzi worked in a small animal practice in Colorado for almost 4 years, and recently made the move to Kansas for her fiance's work with the USDA at NBAF. Her focus is to provide quality care, and help pet owners understand the specific needs of their pets through various life stages and medical conditions. Preventative care is a cornerstone of veterinary healthcare, and knowledge can help empower people to make the best decisions on behalf of their pets. She has a special interest in soft tissue surgery, clinical pathology, and developing her skill in ultrasonography and additional surgical procedures.

On Dr. Lanzi's days off, you will find her spending time with her 2 cats, 2 horses, and her fiance, Steven.